SANTA CLARITA STUDIO
A Boutique Suite of studio spaces in Santa Clarita, California. We are neighboring multiple film production facilities, and are with the Los Angeles Thirty Mile Zone (TMZ.)  We cater specifically to corporate clientele with executive level offerings in a relaxed SoCal inspired environment.  Our Production Forward facilities are designed with your full team's needs in mind.   With quiet spaces to jump on an important phone call or have  a quick team huddle behind a closed door. If you're a broadcaster or industry pro looking for a remote studio, click here.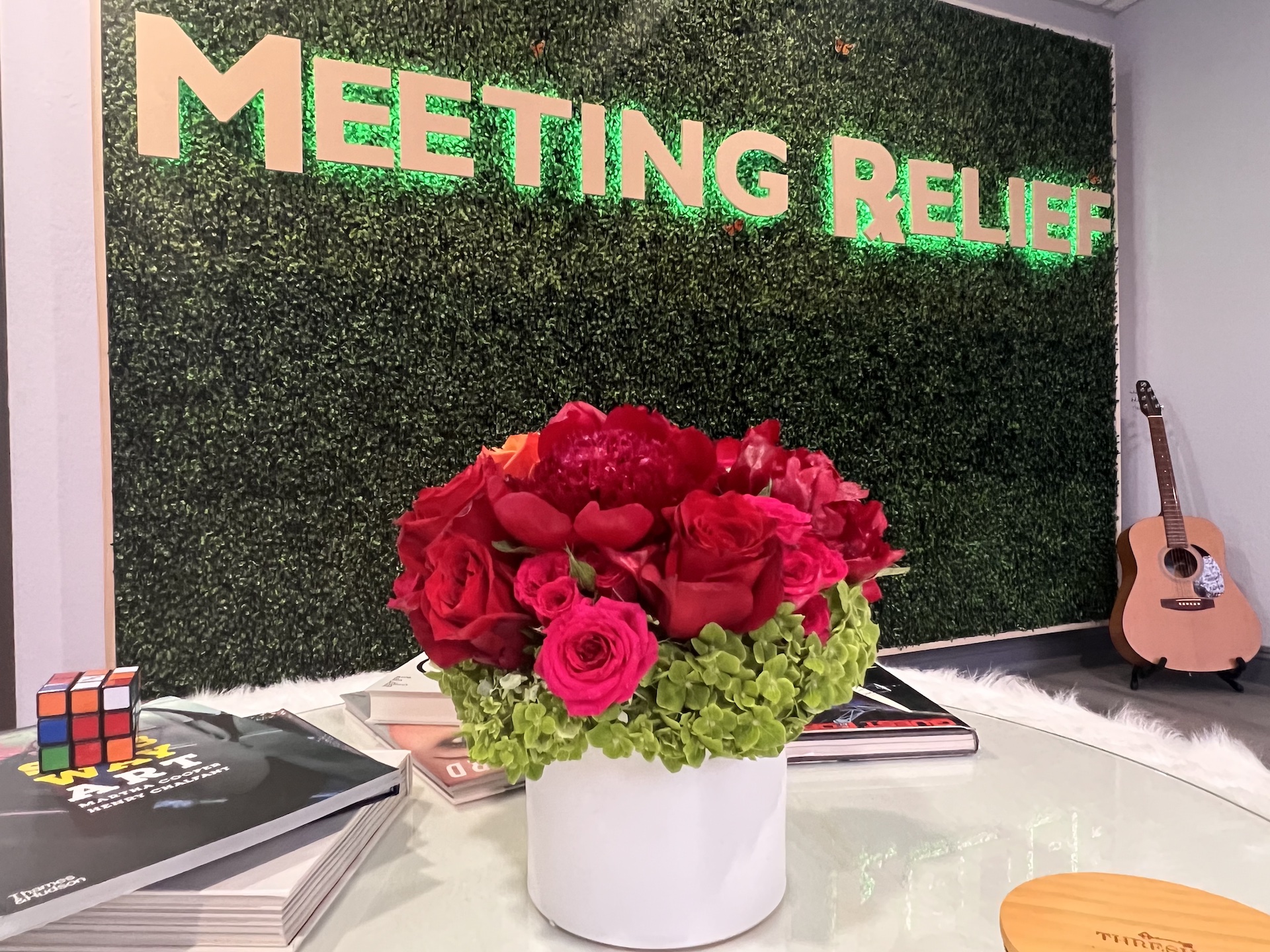 Studio A – is a Black Box broadcast environment.  Featuring: a Camera-Ready overhead lighting grid, integrated Dante Audio, 4K hard line video integration, routable video presenter monitors, Multi Camera Capabilities for remote or in studio operation, Through The Lens Prompting, in an Acoustically treated atmosphere.
Control Room –  is a Broadcast Streaming and Record Hub.  This Layout features separate stations for Audio, Video, Streaming/ Record, with routable Graphics / Playback and call management support.  Additional space is provided for a live  Producer / Show Caller and Client seating. All Stations have wired multi- channel com with agent ID interface, and multi-view video.  We are Remote Producer friendly, with routable presenter feeds and talk back support for prompting, notes, slides, and speaker timer. Our facility has Dedicated Business Class Fiber Internet with redundancy capabilities and, of course, client wifi.
Collaboration Suite – with a conference table and routable AV feeds Fully functional Video Conference Room with Routable AV integration to our Control Room and beyond!
Green Room with a locked door for speaker prep / Hair and Makeup / or an additional Studio suite. *Routable AV integration and Camera Ready
Hospitality Suite – is a great place to step away from the action. Our stocked onsite hospitality suite offers complimentary snacks and beverages to keep you refreshed and energized.
Lobby – a welcoming first impression for you and your team (or your client) doubles as a cool and comfortable Pre Function area with Routable AV integration. It may just be our favorite spot. A warm and natural feel makes it perfect for the on deck talent to decompress before their session. Also Camera Ready
Need a demo now? Skip the line and get in touch. We'll get back to you ASAP.
Meeting Relief, LLC.
27734 Avenue Scott
Unit 190
Santa Clarita, CA 91355
661-475-6777