Today we'll tackle a question every professional has wrestled with since 2020: which virtual event tool is best for your next meeting or conference? Here's the twist – it's a trick question! Let's dive into the world of virtual tools and explore how to make the right choice for your unique event. Click here to watch this conversation unfold on Meeting Relief Minutes, Episode Two.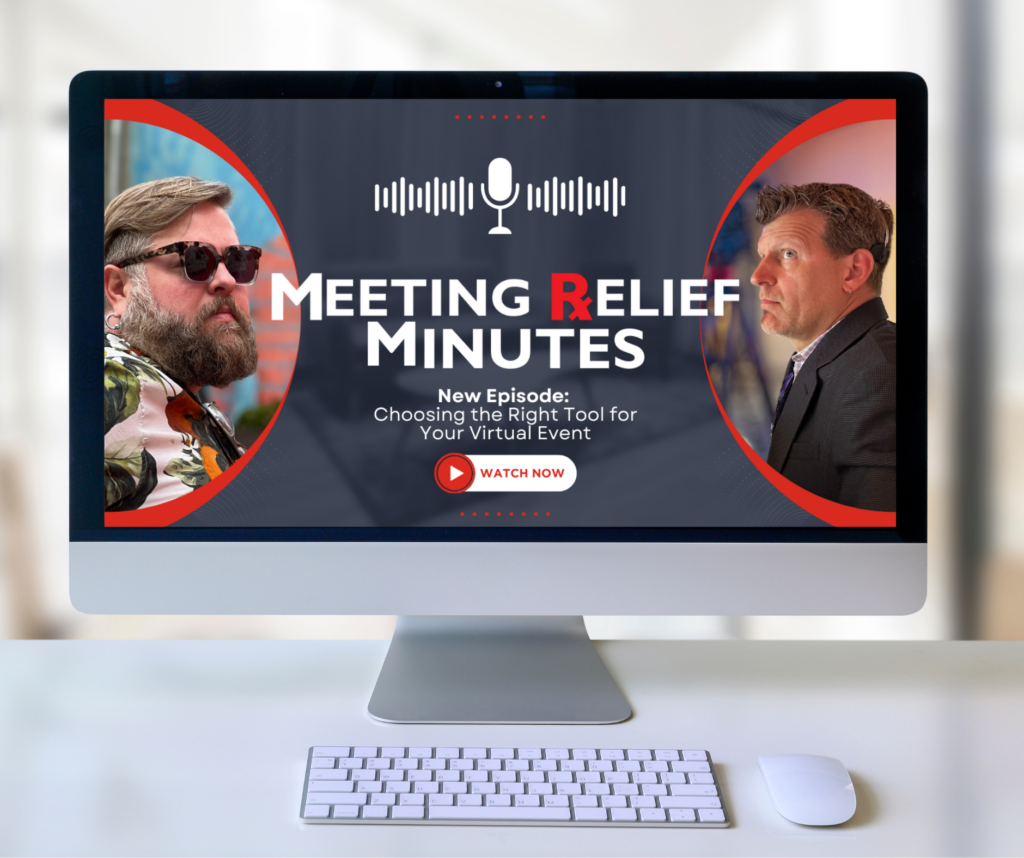 The Virtual Event Tool Landscape
First, let's touch on some of the virtual event tool options out there. Zoom, like Kleenex, has become synonymous with virtual meetings. However, there's a plethora of Zoom-like products with similar features, and your choice may vary based on your specific needs.
One critical initial consideration is whether your company or organization has contractual requirements for using a specific product or software suite. For example, some workplaces mandate the use of Microsoft Teams over Zoom, which can quickly narrow down your options. A good production partner should be adaptable and willing to work within your organization's software requirements.
Ultimately, it's vital that your audience feels comfortable with the login process and format. Different people have different preferences, and what's "best" is often subjective. So, let's explore other factors to consider.
Audience Interaction and Engagement
Does your event require audience interaction, like a question-and-answer segment? Maybe you have a panel that needs to present to a larger audience or maintain an engaging dialogue. Sometimes, you might have a large audience submitting questions via chat or text.
Pro tip: Ensure you disable the ability for attendees to interrupt or distract from your event, especially when handling sensitive content like company layoffs.
Additionally, don't assume that all your attendees are tech-savvy. Provide clear instructions within your invitations and troubleshooting tips to ensure everyone can log in without a hitch.
Testing and IT Support
For new virtual tools or inaugural events, it's crucial to test with potential attendees and IT departments. The intended audience might be joining from within a company server or firewall, which could require whitelisting and additional testing. It's wise to connect your production team with IT support early on to avoid any last-minute technical hiccups.
Exploring Each Different Virtual Event Tool
Consider the format of your event. It could be one-to-many, like a keynote session, a small group collaboration workshop, a panel discussion, or even a session with audience-driven questions. Each format may require different features and tools.
Pre-recording vs. Going Live
When should you pre-record and when should you go live? The choice depends on various factors, including your presenter's comfort level, the need for prompter feeds, and the ability to incorporate graphics and slides on the fly. Scheduling pre-recorded segments as close to the air date as possible reduces the risk of script obsolescence due to rapidly changing news cycles.
There is no one-size-fits-all virtual event tool or feature for all events. It's essential to assess the unique production needs of each session or segment. Furthermore, consider accessibility needs such as captioning, American Sign Language interpretation, and translation support.
The key takeaway here is that the right virtual event tool depends on your event's specific requirements, so take your time to evaluate your options and choose the one that best fits your needs. There's no one-size-fits-all answer, but with careful consideration, you'll ensure your virtual event runs seamlessly.